Internet Poker Legality in Australia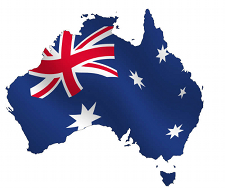 Australia has varied history of legal and illegal online poker and online gambling activity. For many Australians, who are aware of popular international live poker tournaments such as the Aussie Millions, the legality of online poker within Australia is a desirable proposition. Qualifying events for the large-scale Aussie Millions tournament are offered via online poker games on many poker rooms.
The landscape for Australians has changed every two to three years, so this article will survey some of the journey and point out where the current standings leave the issue of whether or not online poker is legal in Australia. This article represents current information and research, but should not be considered a legal authority on the issue. For further legal counsel regarding individual situations in Australia, consult a licensed, professional attorney.
Australian Gaming History
For most of Australia's history some form of gaming has been popular among the people. Australian settlers came predominantly from the UK, where legal state-run gambling also has a lengthy popular history. Betting on horse races was the first favorite as were card games, followed shortly after by national and state lotteries. When slot machines were introduced in the 1950's, those also added to the list. The growth of the industry moved into full-scale, live casinos first opening in 1970, offering table games such as poker, blackjack and others.
Ironically, while the popularity of various forms of legal gaming grew, so did lawmakers hesitations about the practices. The pendulum of legislation typically started with some limitation or prohibition, but moved toward a lenient stance allowing most forms of betting. The state was licensing casinos, and enjoying revenue from them, but when online casinos and online poker arrived in the mid-1990's, the hesitations increased.
Initially, many Australians began utilizing online gambling services and online poker rooms as they developed. The Australian government was concerned that too many people would becoming "addicted" to online gaming, since current statistics estimate around 80% of Australians regularly gamble in some form. The main issue was how expansive online poker and online gaming could be, with legislators seeing regulation as problematic to cover various future scenarios. Eventually the decision came to implementing the Interactive Gambling Act.
Interactive Gambling Act of 2001 (IGA)
The Interactive Gambling Act of 2001 was a complete piece of legislation that effectively banned all online poker and online casinos throughout Australia. Whereas numerous Australians were using Internationally based sites, the law specifically bans sites located outside the country from allowing players to login from within Australia. Though sites within Australia were also targeted for the ban and no new sites would be able to operate, if an Australian casino had received an online license prior to the law coming into effect, they were exempted and could remain legally operating and providing online casino games for Australian players. One Australian casino was operating a site, Lasseters Online, so they currently remain the exclusive Australian-based online casino and one legal place Australian online poker players find games in the country.
Other exceptions to the IGA also include exempting sports betting online, so the popular horse race betting and other sporting event betting continues as an online gambling activity. The restrictions are limited to casino-type games online. However, the law also doesn't prosecute players for online poker or online casino logins. The penalties for online poker activity are directed toward the operators and site hosts instead of the average player. Thus, many Australians still find online poker rooms that accept Australian players and allow them to access real money online poker games.
Challenges to the IGA
Operators outside Australia, as well as players within Australia, continue to offend the IGA statutes. The Australian government is perceived as generally more lenient than the United States government who passed the 2006 Unlawful Internet Gambling Enforcement Act, which caused numerous sites to instantly bar all U.S. players. Some UK based sites as well as several other jurisdictions offering legal online poker rooms still allow Australian player access, though not all do now. Most offshore operators entirely disregard the Australian law, since, similar to their historical trends, the government doesn't tend to enforce it or fine offshore operators for allowing Australians to play on their sites. There have been rumors that the Australian government will start trying to filter access to certain sites, but as of yet this hasn't happened. Some estimates offer that more than $300 million is spent annually by Australians playing online poker and casino games.
Live Poker Regulated By State
The restrictions are not getting easier in Australia, since in 2012 the state of Victoria will be opened up to offering a $750 million TAB wagering license for online companies. Ladbrokes, based in Gibraltar, is one of Britain's largest online poker and casino companies, hopes to be one of the bidders for the Victoria license. They are one of the online poker rooms still accepting Australian players, though it is technically illegal for them as an offshore company to do so.
Additionally, some states in Australia do offer live legal poker play under limited conditions. The popularity of live and online poker are not diminishing by any means in Australia. The legal-in-some-areas poker games seem like another foot in the door for advocates of full online poker legalization within Australia. Public cash games with an entry fee are not legal in Queensland, for example, but are legal in New South Wales and Victoria. Casinos have the most opportunity to offer live poker games as they are legal within all states of the country. The short summary is this:
Outside a Casino
Poker tournaments with an entry fee and real money prizes, though players pay commission, are legal in Victoria and New South Wales.
Poker tournaments without a cash entry fee and real money prizes are legal in Victoria and New South Wales as well as in Queensland.
Private social entertainment poker games in residences, even for real money, are legal in Queensland, New South Wales, Western Australia and Tasmania as long as there is no "required entry fee," no form of "house rake," and the full pot money goes to the winning players of the hand.
Inside a Casino
All states within Australia legally offer live, cash poker games.
The future of legal online poker in Australia remains uncertain. While the current legislation persists, many players will still utilize illegal offshore sites to play online poker. Unless the government makes legalizing online poker in Australia a priority to match the people's practices, lawmakers may continue to present themselves a sticky situation about how to regulate what is already a very popular and wide-spread activity around the country.
Of course, for a more precise and confident answer, please talk to a lawyer. To move on to the next portion of our Beginner's Guide, click the link below.
Next Article » "Is Internet Poker Safe, Fair, and Random?"