Full Tilt Poker Review
Please Note - Full Tilt Poker Does Not Accept USA Players. Please see the poker rooms on our homepage for a list of US accepted poker sites
Full Tilt Poker (www.FullTiltPoker.com) is the second-largest online poker room in the industry, with over 120,000 players loggin in every day. Online since 2004, Full Tilt is known for its smooth software and its abundance of Full Tilt-sponsored pros, including players such as Howard Lederer, Jennifer Harman, Phil Ivey, Erik Seidel, and Chris Ferguson.
Looking for Full Tilt Poker? Visit www.FullTiltPoker.com
Full Tilt Poker offers real money and play money games, including Texas Hold'em, Omaha, and Seven Card Stud ring games, sit and gos, and multi table tournaments. Full Tilt also offers some unique poker games including mixed games like H.O.R.S.E., unique tournaments such as Cashout Tournaments, and a brand new poker variant titled "Rush Poker".
The site accepts all players (including Americans) and offers easy deposit methods including credit cards, eChecks, and eWallets. Read on to learn more about Full Tilt Poker.
Software Quality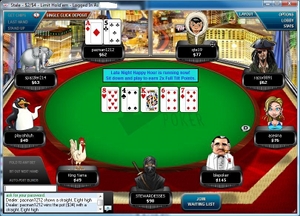 Full Tilt offers smooth, stable software which is custom and won't be found at any other online poker sites. There are three lobby views available, Classic View, Basic View, and Standard View. Classic View is the original lobby platform, with multiple tabbed windows to navigate players, cashiers, tables, joining games, money, waiting lists for tournaments and menus. Standard View has customizable lobby widgets and advanced filters. The new Rush Poker format only works with Basic or Standard View; Classic View Users can update to either newer lobby for free.
Full Tilt also offers a few special customizable software features. Hotkey options allow players to find tournaments, display bets, display pot totals, or set an "auto muck" feature. Also, Full Tilt offers one of the best hand history replayers on the market. Instead of reading through textual hand histories, players can watch visual replays of previous hands from their session. This makes it easy to catch up on the action if you stepped out for a minute.
Full Tilt is one of the few online poker rooms who have developed custom Macintosh software to complement their Windows-only program. Both Windows and Mac players can experience the same high-level of software and game play at Full Tilt Poker.
Also, as we mentioned before, Full Tilt recently launched a brand new poker variant called Rush Poker. Rush Poker players sit in a "pool" of players instead of at a table, and are instantly seated at a new table as soon as they fold their previous hand. This means there is no break in between hands, so you can play hundreds if not thousands of hands per hour.
Player Traffic
As mentioned before, Full Tilt is the second highest-trafficked poker site online (right behind PokerStars.com). Since the majority of players at Full Tilt are from the United States, peak hours at the site are usually between 5:00 PM and 8:00 PM EST.
During peak hours there are over 100,000 players online. Even during off-peak hours there are still tons of games to play, as over 20,000 players are online at all times of the day/night. Full Tilt isn't lying when they say the tables run 24/7/365 - the games never stop.
Player Competition
Full Tilt doesn't discriminate for players of various levels. In fact, at any given table players may find themselves seated next to first time players and professionals at the same time. Game limits and buy-in levels are the most clearly distinguishing factors for new players versus more experienced high rollers.
New players can access Full Tilt's Poker Academy for training resources, interactive lessons, strategy helps, and practice games. Tournament selections are based on buy-in levels and tournament types. For particular competitors, select a type of tournament, like a Sit N Go where players utilize specific strategies.
Rush Poker also offers a new form of player competition. Rush Poker instantly places a table full of players in full games or 6-max games from the widest playing pool available. In the wide pool random selection again the skill levels may vary. However, experienced players can tell almost instantly who are novice or very loose players. Noting that in personal game notes can help future game selection. Rush Poker also allows players to play multiple entries at once, and guarantees no player will be simultaneously seated with the same fellow players at more than one table, or at two tables in a row.
Bonuses and Promotions
Full Tilt offers a sign-up bonus for new depositors of 100% match on first deposits up to $600. The deposit bonuses become automatic credits into a playerís Bonus Account. According to the bonus details page at http://www.fulltiltpoker.com/deposit-bonus-details.php, players earn each points for each 10% increment, they are transferred into the player's cash account. In the first 120 days of play at Full Tilt, a new player can continue to earn bonus points adding up to the total of their first deposit, whether it is $50 or all $600.
Freerolls are offered daily and weekly to any players on Full Tilt. New depositors can register for freerolls by selecting Freerolls or FTP's on the tournament tab of the lobby after setting up a new player's account. On occasional promotions, Full Tilt automatically enters new depositors into freerolls, but it's easier for new players to register for their own according to the daily schedule of games found at http://www.fulltiltpoker.com/freeroll-tournaments.
Rewards Program
Full Tilt Points are the automatic rewards program for all Full Tilt players. Points are earned from the rake on ring games and on fees for tournaments and sit'n'gos. One point or partial points are earned for each dollar in ring game rake, up to three dollars per hand. Seven points are given for each tournament/sit'n'go entry fee dollar a player pays. Full Tilt Points can be used for merchandise in the store or tournament entries that list buy-ins as FTP's.
Overall Full Tilt offers some of the widest, variety of poker games such as Hold'em, Omaha, Stud, Razz and H.O.R.S.E. Players of all levels are welcome at Full Tilt. Their bonuses are sufficient, though not extravagant. Players who take advantage of multiple freerolls and weekly promotions can still earn incredible totals playing Full Tilt Poker.
Deposit/Withdrawal Methods and Ease of Use
Full Tilt has a more limited set of deposit and withdrawal methods than other online poker rooms. There are four main secure deposit methods, but Full Tilt does not currently support deposits from some of the major e-wallet services internationally. Players who are unfamiliar with some of these services can follow the quick start guides at http://www.fulltiltpoker.com/deposit-real-money, Full Tiltís Payment Processor page.
Full Tilt offers its patrons the deposit payment options of Visa and MasterCard credit card, check card and debit card options. Instant e-checks as secure direct deposits from your bank account are welcome. Cash transfer, accessible from convenience stores, groceries and kiosks are acceptable deposit methods. Finally, Click2Pay e-wallet services that support German, Swiss and Austrian bank account transfers, or debit/credit card transfers are accessible at Full Tilt.
Withdrawals from Full Tilt are most easily done back to the same payment processor as a registered Full Tilt deposit account. Withdrawal options can be pre-selected by players when registering their Full Tilt account. When the player logs on to the cashier, selecting this pre-registered withdrawal method is a one-click process for easy withdrawals.
For players without a registered payment account or pre-selected withdrawal options, Full Tilt allows players to request a check for withdrawals between $100 and $4000. Credit card users who do not select withdrawal options back to a payment processor or bank account may need to use the check request option.
Ready to Play? Head over to FullTiltPoker.com to create your account, and don't forget to use referral code IPOKERORG for the 100% up to $600 bonus!