PKR Poker Review
PKR Poker (www.PKR.com) is touted as one of the newest 3D poker experiences. There are options for gaming ranging from low stakes for players who enjoy poker as a hobby to weekly tournaments for the most practiced poker enthusiasts.
Looking for PKR Poker? Visit www.PKR.com
There are several reward structures, with bonus packages paying as much as $1,000,000 annually. Approximately 30,000 gamers are playing at more than 4,000 tables, on average. PKR Poker accepts most American credit cards as well as many international cards. This site has a variety of loyalty programs.
Software Quality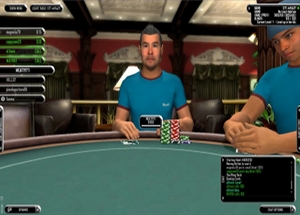 PKR Poker has instructions for how to get started on their site. There is a demonstrational video explaining how to download the PKR Poker software allowing compatibility with most computers. There are also instructions in regard to opening an account. The download takes about three minutes on a standard Internet connection as the 3D software is often regarded as being data heavy. When you launch the software for the first time, you will have to wait for some updates to complete but subsequent software launches are typically shorter.
After logging in to the web site (you must create an account to test the software), you will be able to choose between real money games and free games. However, PKR Poker does have a reputation for frequent site updates on the weekend that make free tables unavailable until the next Monday. You will choose between ring games, tournaments (including sit and go and scheduled) and the type of game. Once you make those selections, you can see the details of each available table including the table name, environment (general graphics settings), table limit, stakes, number of players, average pot, hand per hour and wait time.
The actual game play has avatars seated around a table that use small movements to simulate a real game. You can view your hand history by clicking on a small tab to the right. This feature shows current web site news, the amount of friend requests that you have, your Club PKR level, your progress to becoming a real member and financial information such as your bankroll and amount of PKR Points in your account.
Player Traffic
Currently, PKR Poker is regarded as the most popular 3D poker site. During their peak traffic time, they typically host an average of 6,500 poker players. However, an average of 4,500 of these players are usually seated a free play tables leaving 2,000 real money players. Since their launch, PKR Poker has experienced peak hour traffic as high as 10,000. However, during slow hours, many players at the web site have complained that it can be difficult to find Omaha games while the Texas Holdem tables are typically populated.
Player Competition
By most accounts, the competition at PKR Poker is typically soft. The overall flop percentage (the amount of players that generally see a flop during every game) is an average of 55%. However, low limit games have average flop percentages of 75% to 85% and often higher. Of course, the free games have steadily high flop percentages usually above 90%, on average. Both in ring games and tournaments, the competition is usually loose and, even in higher stakes games, the flop percentages and play style are usually very lucrative at 50% to 55% and very little tight play.
Most poker players regard PKR Poker as attracting a great deal of unskilled or beginning poker players because of the innovation of the 3D software that can often turn off skilled or experienced online poker players. Unlike many other poker rooms, PKR Poker has also gained a reputation of having the most beginner or novice players in their offering of tournaments and promotional games. For this reason, some of the lower limit or buy in tournaments tend to be the most attractive to new players (both to the web site and game) and the skilled players tend to stick to the higher limit or buy in tournaments.
Sign-up Bonuses
PKR Poker offers a 100% deposit bonus for all new members, up to a maximum of $800. You must make a minimum deposit of at least $10 to qualify for this introductory bonus.
There is also a Refer a Friend bonus that any player with an account at PKR Poker can take advantage of. Any time that a person signs up to PKR Poker and makes a deposit of at least $50, you will be rewarded with an additional $50 in free bonus money. In addition, your friend will receive an additional $50 in their account. In order for the bonus to be dispersed, your friend must accumulate 1,000 PKR Points. Learn more about PKR poker bonus codes at 3DPKRPoker.com.
Loyalty Programs
The loyalty program at PKR is based on the accumulation of PKR Points. You earn these points in several ways. Each $1 that you spend on entry fees for tournaments awards you with 100 PKR Points. The entry fee is the extra charge that PKR charges entrants rather than the buy in ($50 + $5, the second number would award the player with 500 points).
You also earn PKR Points based on the amount of rake taken from each of your real money hands. This amount is capped at 300 and is based not only on the total rake but the amount that you personally invested in the pot and the number of players at the table. You can also use your bankroll to purchase these points. For example, 12,500 points costs $30.
You can spend your PKR points on merchandise and other rewards in the PKR shop. There are items ranging from apparel to electronics to tournament entries and books or magazines. There are electronics such as laptops available for around 2.7 million points and books available for around 19,000 points. There is also a member ladder that rewards players with different statuses based on how many points they have accumulated.
Rather than requiring an ongoing accumulation of points, you will remain at a level from the moment that you achieve it, even if you take a extended break. By earning a total of 35,001 points, you can achieve the bronze level. By accumulating 2,500,001 points, you can attain the highest level, diamond.
Deposits and Withdrawals
PKR Poker accepts most major American credit cards, as well as a variety of international cards. This site offers an array of deposit options, and the minimum deposit is $10.00. Every deposit is kept with the strictest security and will be held only for the player who deposited the money. Players' deposits are never mixed with operational funds. The deposit process requires a few clicks of your mouse and your account can be opened.
Whichever method you chose for your deposit is how your winnings will be available for withdraw. However, if you've made your deposit with a credit card, you may choose to withdraw your money by any means.
Restrictions are:
Deposits must be made 48 hours prior to a withdraw request.
Withdraws cannot be made until the deposits have been cleared.
Anyone with a cumulative total of $10,000 worth of transactions must provide identification for tax purposes.
Fees for payouts are as follows:
All withdrawals under $100 are subject to a fee of $2.
All withdrawals over $100 require no processing fees.
Courier charges may also applying depending on the country and withdrawal method.
Ready to Play? Visit PKR.com to sign up, and don't forget to use bonus code PK800 for the 100% up to $800 bonus!