PokerStars Review
Please Note - PokerStars Does Not Accept USA Players. Please see the poker rooms on our homepage for a list of US accepted poker sites
PokerStars (www.PokerStars.com) bills itself as the world's largest poker site and it regularly produces champions in the World Series of Poker and also sponsors the European Poker Tour. PokerStars has a sterling reputation in the online poker world, and has been named "Best Poker Operator of the Year" by eGaming Review.
Looking for PokerStars? Visit www.PokerStars.com
Games include Deuce to Seven Triple Draw, Five card Draw, Horse, Hose, Omaha, Razz, Stud and Texas Holdem. Real money games range from a penny to $2,000. U.S. players are welcomed by the site, as are deposits from U.S. banks.
Software Quality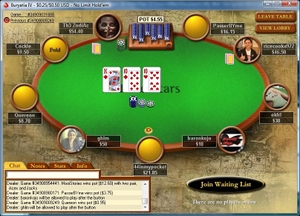 The free software download works for PC or Mac and it can be installed and running in a few minutes. The package is constantly updated with new improvements. The interface is customizable and allows a player to use his or her own picture as an avatar. PokerStars allows players to take notes on the competition which are stored locally for later reference. It also allows players to track their own statistics, either for the present table or for a player's entire history at the site.
A feature called "Hand History" allows players to see the outcomes of all the hands they have played, including all the cards of all players, unless they folded. All players have an allotment of extra time they can use when they need extra seconds to make a tough decision. There's also a feature that allows you to practice for free, before trying a betting game. Sorting and filtering options in the lobby allow players to find the right game.
Traffic Levels
With upwards of 300,000 players logged on at peak times, PokerStars is the busiest site of its kind in the world. Traffic is high during Sunday tournaments which include one with a $1.5 million pot. Day or night, it's easy to get a table in the game you want, at the right level of competitions and that fits your bankroll.
Player Competition
Soft games exist on the lower end, but it's not a rule. In general, competition is stiff all over the site, even in low-stakes games. Especially in ring games, the flop percentage is an average of 25% to 35%. By most accounts, the majority of soft play is confined to low buy in tournament play as beginners have a reputation of sticking to these types of games. Poker Stars has gained a reputation of having some of the stiffest competition on the Internet, largely due to the high site traffic and popularity with skilled players.
Sign-up Bonus and Freerolls
Poker Stars currently offers a 100% signing bonus, up to $600, on the first three deposits. The bonus is released incrementally, as you bet on hands. In order to qualify for the full bonus, you must make the second two deposits within 90 days of the initial one. To redeem the $600 bonus, use marketing code MIK500 when you sign up.
There are also reload bonuses that are offered throughout the year via email, on site promotion or alerts that are administered during games through Poker Stars' software. As you earn points, your bonus is dispensed into your account. Every 170 VPP points is equal to $10 in bonus money. So, 1,700 points are required for $100. In this way, 10,200 points must be earned to unlock the full introductory bonus over a period of three deposits.
Multiple freerolls are held daily. Larger freeroll tournaments weekly and monthly. One of the popular promotions at Poker Stars is the NHL awards that are held in Las Vegas, Nevada. There are a series of qualifying tournaments with the final tournament occurring on April 4th. The winner of this final tournament gets an all expense paid vacation to attend the NHL awards. The top five finishers in this tournament also receive NHL Dallas Stars merchandise and other prize packages.
Rewards Program
The rewards program at Poker Stars is the VIP Club that allow players to accumulate VIP Player Points and gain levels based on their monthly (or yearly) totals. Based on the level that you achieve, your ability to earn more points increases via multipliers.
For example, the second tier in the system awards players with 1.5 times the normal VPPs than new players (confined to the bronze level). The highest level that is possible at Poker Stars, Supernova Elite, gives players a 400% multiplier on all points and gives players access to all features and tournaments on the web site.
The first four levels require players to maintain an amount of points every month. However, the top two tiers of the program are checked yearly. So, for example, the silver star level requires players to accumulate 750 points every month. However, the Supernova Elite level requires eligible players to accumulate 1 million points per year.
Technically, this means that you could earn a large portion of your points during the first six months of the year and take a break before earning the remaining required portion. If you do not earn the required amount of points for your status level, you are demoted to the corresponding level that would accompany your points. So, if you are a Platinum member (7,500 points per month) but only earn 750, you would be demoted to the silver level for the next month.
Poker points can be exchanged for tournament buy ins, cash or merchandise at any time. The amount of points that you earn is the only consideration for your status level. So, spending points that would put you down to a lower level does not effect your standing.
Electronics such as televisions, gaming consoles and cameras are available in the store. There are also poker books, magazine subscriptions and poker accessories are available. As an example, an Xbox 360 Elite is available in the VIP Club for a total of 35,000 points.
Deposit and Withdrawal Methods
Accepted methods of payment include echecks, Visa, Mastercard, Diners Club, Click2pay, Moneybookers, Clickandbuy, money order, cashier's check, WebMoney and Neteller.
Ready to Play? Visit PokerStars.com to sign up, and don't forget to use marketing code MIK500 for the 100% up to $600 bonus!