Ultimate Bet Review
Ultimate Bet (www.UltimateBet.com), now known to poker players worldwide as UB, was established in 1999 with the help of poker professionals and to date has served over 2 million poker players around the world. UB Poker offers a sophisticated and easy to use website, a great rewards program, and easy banking options.
Looking for Ultimate Bet Poker? Visit www.UltimateBet.com
UB Poker also features "Team UB," which is a sponsored group of pros that includes big names like Phil Hellmuth, Annie Duke, and Brandon Cantu. The "Team" showcases seventeen professionals who all play and blog exclusively at Ultimate Bet.
Ultimate Bet Poker also sponsors its own show - Poker2Nite which is hosted by Joe Sebok and Scott Huff and airs every Wednesday night at 11pm ET on FSN. Sebok and Huff highlight the week in poker and conduct in-studio interviews with poker celebrities.
Ultimate Bet is owned by Tokwiro Enterprises Energ., a gaming company owned by the Mohawk nation on the Kahnawake territory. It is licensed by the Kahanwake Gaming Commission. Ultimate Bet is affiliated with Chipleader.com.
Software Quality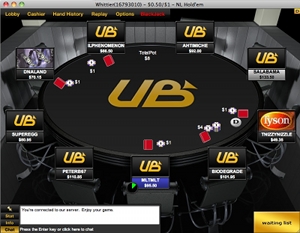 UB Poker is free to download and has two separate programs, making the site compatible for both PCs and Macs. Ultimate Bet Poker is constantly updating and improving its gaming technology and it boasts a high quality gaming website. It has an online troubleshoot page and reliable customer service, but it does not offer a live support desk.
The site offers six types of poker: Texas Hold'em, Seven Card Stud, Omaha, H.O.R.S.E., H.O.S.E, H.O., and Razz. UB.com also offers Blackjack and Elimination Black Jack.
Traffic Levels
UB Poker is a very popular site and so the number of live players is always high. It is one of the top ten sites for poker traffic. At peak hours of the day, Ultimate Bet hosts over 20,000 real money players. In ring games this number can exceed 2,500 players.
The room is always busy and the tables will be crowded. That being said, the site is also technologically advanced and is able to handle its traffic levels quite well even during its peak hours. You should not have issues with delays at this site.
Player Competition
Because some of the biggest names in poker play at Ultimate Bet Poker, you can expect the levels of competition at some of the tables to be pretty high. UB Poker hosts professionals and novices alike, so there is a table for everyone. The site gives players a chance to practice for free at real tables before make any deposits for real money games.
Ultimate Bet hosts a slew of online poker tournaments every day. Buy-ins for the tournaments start at as low as $1. Some of their tournament types include freeroll poker tournaments, No limit/Pot limit tournaments, direct entry satellites, Sit & Gos, multi-table online poker tournaments and heads up tournaments. For its live poker event, the company hosts the UltimateBet Aruba Poker Classic every year.
Bonuses
Ultimate Bet Poker offers a $1,100.00 signing bonus of up to 111%. As a new member, if you make a minimum deposit of $10.00, UB Poker will match your deposit by up to 111%. The site offers Mixed Power Hour in which you can earn double your points 24 hours a day.
>> Click here now to play at Ultimate Bet <<

Use referral code IPORGUB for the 111% up to $1,100 bonus
UB Poker also offers $75 when you a refer a friend to the site - a higher reward than some of the other sites out there. UB Poker also offers $200,000 Sunday tournaments and a chance to win a seat at the WPT L.A. Poker Classic. Ultimate Bet hosts $1 million leader board tournaments and 10 cent step tourneys.
Rewards Programs
UB Poker's rewards program, RAI$E, is different from other online poker sites' rewards programs because it offers five levels of rewards. The more you play, the higher your level of eligible rewards. RAI$E status points are calculated every month and the number of status points you earn determines your rank on the RAI$E ladder.
The prizes become greater at every level, from freerolls and free intersite fund transferring as a "member" to ultimate shopping as a "player", private tournaments and cash for ultimate points as a "contender" or a "legend" and games with pros plus 5% interest in your online account balance as an "icon".
Ultimate Bet gives you the option to turn your Ultimate points into cash. The more you play, the more money you can earn up to $1,000 every month. Ultimate Bet also offers some prizes to its high-level reward members including certificates for sky-diving and flying F-16 jets. At any level, UB rewards its players well.
Deposit/Withdrawal and Ease of Use
UB Poker boasts easy deposits, the most sophisticated security encryption codes and the industry's fastest cash handouts. They offer a 1-click reload so that you never have to step out of a game to refill money in your account. Ultimate Bet Poker accepts all major forms of payment including Visa and UKash.
Ready to Play? Visit UltimateBet.com to sign up, and don't forget to use referral code IPORGUB for the 111% up to $1,100 bonus!