How to Play Online Poker on a Windows Computer
Playing online poker on a Windows computer is very simple. Windows computers make up the majority of the personal computer market, so almost every online poker site caters to Windows users (more so than Mac poker players).
This article is going to explain the two ways you can play poker on a Windows computer, and will also walk you through an example download/installation of an online poker room.
Windows-Specific Poker Software
Downloading Windows-specific poker software is by far the best method for playing poker on your personal computer. Every single online poker site offers Windows software that you can download and run locally on your computer.
Downloading the Windows software gives you access to the best graphics, most features, and smoothest game play available. If you choose to use the Windows software you will have to download a ".exe" file from the poker room, which you then open on your computer to install the poker room's software. We provide a step-by-step guide for downloading and installing a Windows poker room later on this page.
Flash Poker Rooms
The other way to play poker on a Windows computer is to choose a poker site with a flash poker room. "Flash poker rooms" run in your Internet browser (you probably use Internet Explorer, Firefox, or Chrome) so they don't require any download or installation.
One disadvantage of flash poker rooms is that the software is usually a little jumpy, and not as visually pleasing as the Mac-specific software. Poker sites that offer a flash version include Bovada Poker and Party Poker. To play at the flash version of their sites, visit either www.Bovada.lv or www.PartyPoker.com and click the button that says "Flash Version" or "Instant Play Version". A new window will pop up, and you can start playing.
The only time we recommend playing at a flash poker room is if you can't or don't want to download poker software (perhaps you're playing on a friend's computer or at work on your breaks). If you can download the full software though, you should.
How to Download/Install Windows Poker Software
The last part of this article will explain exactly how to download and install a Windows-specific poker room on your computer. I am writing this article on a Windows computer, so I will provide screenshots and instructions as I walk you step-by-step through a full download and installation. Let's get into it.
Step #1 - Choose a Poker Site
Your first step is to choose a poker site. This article is going to use Full Tilt Poker as an example, because we think they have the best Windows poker software out there. The download/installation is basically the same for every Windows poker site, so no matter what site you choose you can still learn from these instructions.
Step #2 - Download the Windows Poker Software
Your next step is to visit the poker room of your choice and download their software.
Then, this window will pop up: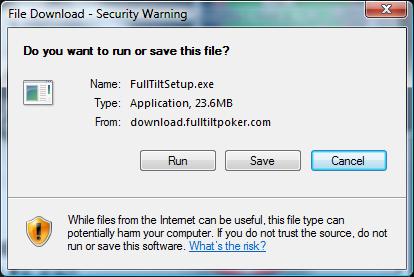 Click "Run" to start the download. Here is the box that will show your download progress: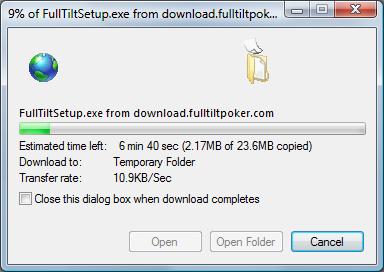 Once that bar reaches 100%, you have successfully downloaded the Full Tilt Poker Windows software. Your next step is to install the software.
Step #3 - Install the Windows Software
Once the download is complete, this window will pop up: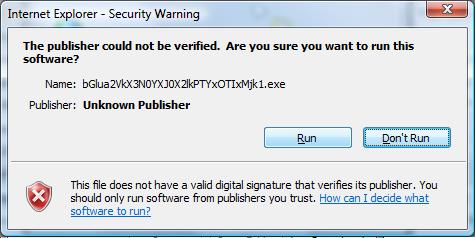 Windows has security measures in place to make sure you are aware of any files being installed on your computer. Click "Run" to indicate that you know/trust the Full Tilt Poker software and want to install it.
From there, you will choose your language and then see the Full Tilt Installer:
Click "Next", read through and agree to the terms of the license agreement, click "Next" again, then click "Install". The installation is now complete.
Step #4 - Launch the Windows Software
Your last step is to launch the Full Tilt Poker software. Simply click "Finish" in the final window, and the software will automatically launch. Now it is time to:
Next Article » Create Your Player Account